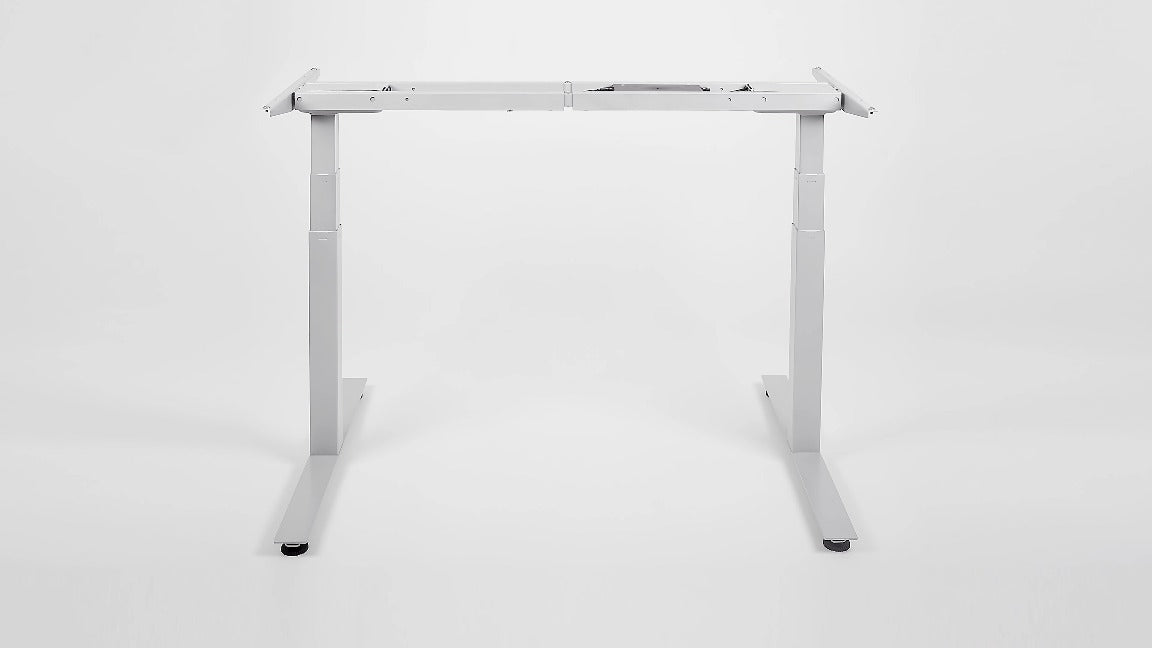 elevating frame
Our ergonomic products are designed, manufactured and assembled right here in the European Union. European guarantee from minute zero, complying with all European manufacturing and quality standards to obtain a product made as before, durable and also sustainable.
Our frames support more weight, up to 100kg, and adapt better to our clients, moving lower and higher than other simpler models. Its three-column lifting mechanism, its two low-consumption motors, its controller with display and memory, make its handling comfortable, smooth and safe with its pressure detection to avoid accidents.
Take a look at the technical characteristics below.
full frame details
| | |
| --- | --- |
| adjustable working height | 650-1300mm with 30mm envelope, with 650mm of travel |
| frames | Powder-coated steel. |
| Measurements on desk | 60-80mm wide, adjustable rail from 1200mm to 2000mm long |
| foot measurements | 590x65x30mm |
| Power | 230V AC, 300W, standby consumption of 0.3W |
| Transmission | 2 synchronous motors with microprocessor control. Thermal sensor. |
| Controller | Electronic height controller with 4 memory positions. black colour. |
| noise | <50dB |
| Loading capacity | 100 kg (Distributed load) |
| Protection | Intelligent collision protection system |
| columns | Elevation system with 3 columns 60/60; 55/55; 50/50 mm with level adjustment. |
| standards | ISO 21016, EN 527-2, EN 527-3 |
| directives | 2006/95EC, UL 508:1999, UL 1004 R705:1994, WE DC 2004/108/WE |
Sign up, subscribe to our newsletter and immediately receive a 5% discount coupon. And you can't wait, contact us!
ErgoNatureWood
Raised Table Natural Wood - Ash - Quality
Sale price Price €897,67 Regular price €996,41 Unit price / per
Tax included.
Shipping
calculated at checkout.
Description
Within our range of Quality lift table / lift desk, is Fresno. If the natural wood of Fresno is known for something, it is for its resistance. Widely used in baseball bats and tool handles, which already indicates its hardness.
Light in color with darker brown contrasts and a uniform and marked grain, it has an appearance that is often reminiscent of oak, although with more contrasts than this, giving it a unique beauty.
If you are looking for a noble solid wood, with a soft contrasting tone, resistant for day-to-day use and well finished, Ash is the ideal natural wood, served in a 3cm thickness.
And if you want to give it a more rustic look, we can make a natural edge . As? Tell us in the comments of the order.
Can't find the size you need? You need a specific size, a larger lift desk, 180x80, 200x80. Do you need a double height frame, a corner lift table frame? Do not hesitate, contact us. We work to order, any natural wood and solid wood on the market, beyond our catalogue, so we will help you find what you are looking for.