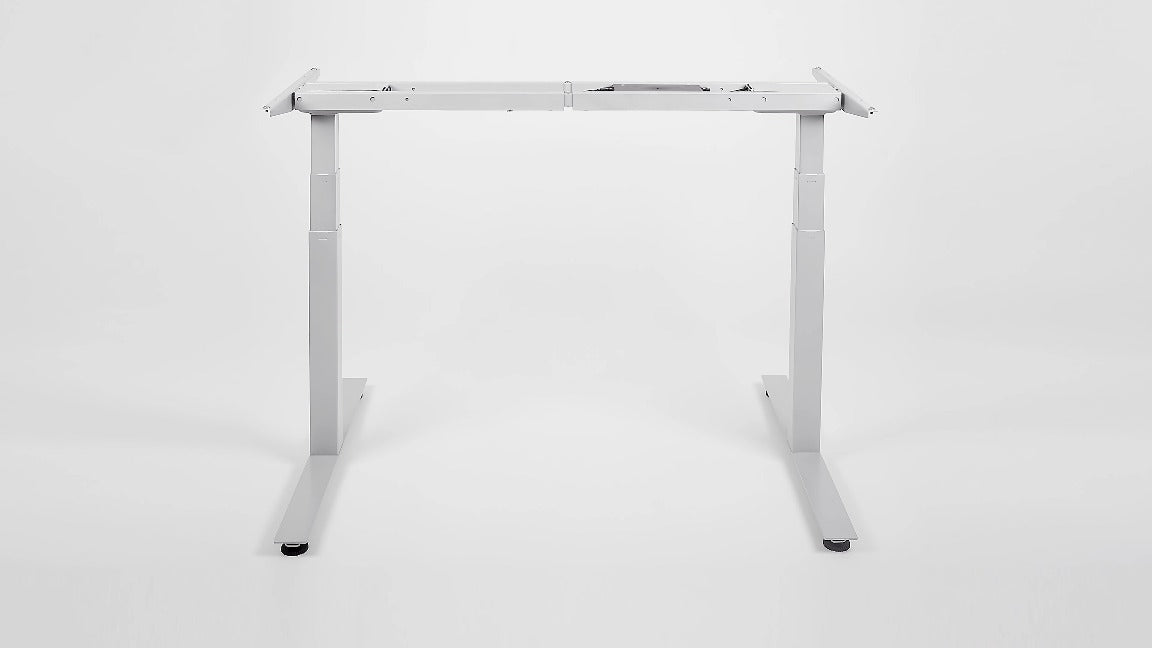 elevating frame
Our ergonomic products are designed, manufactured and assembled right here in the European Union. European guarantee from minute zero, complying with all European manufacturing and quality standards to obtain a product made as before, durable and also sustainable.
Our frames support more weight, up to 100kg, and adapt better to our clients, moving lower and higher than other simpler models. Its three-column lifting mechanism, its two low-consumption motors, its controller with display and memory, make its handling comfortable, smooth and safe with its pressure detection to avoid accidents.
Take a look at the technical characteristics below.
full frame details
| | |
| --- | --- |
| adjustable working height | 650-1300mm with 30mm envelope, with 650mm of travel |
| frames | Powder-coated steel. |
| Measurements on desk | 60-80mm wide, adjustable rail from 1200mm to 2000mm long |
| foot measurements | 590x65x30mm |
| Power | 230V AC, 300W, standby consumption of 0.3W |
| Transmission | 2 synchronous motors with microprocessor control. Thermal sensor. |
| Controller | Electronic height controller with 4 memory positions. black colour. |
| noise | <50dB |
| Loading capacity | 100 kg (Distributed load) |
| Protection | Intelligent collision protection system |
| columns | Elevation system with 3 columns 60/60; 55/55; 50/50 mm with level adjustment. |
| standards | ISO 21016, EN 527-2, EN 527-3 |
| directives | 2006/95EC, UL 508:1999, UL 1004 R705:1994, WE DC 2004/108/WE |
Sign up, subscribe to our newsletter and immediately receive a 5% discount coupon. And you can't wait, contact us!
ErgoNatureWood
Natural Wood Lift Table - Essential Pine - Beauty
Sale price Price €718,25 Regular price €797,25 Unit price / per
Tax included.
Shipping
calculated at checkout.
Description
With the aim of offering an affordable entry level to our solid wood lift desks, Pino Essential was born. Exactly the same high-quality elevating frame as in the other models, double motor, maximum height customization between 65-130cm but with a simple control, although you can add the digital control with memory as an option for only €25 more.
The wood that accompanies this desk is Essential Pine, a solid slatted pine board approximately 3cm thick . Less thick than Iberian pine, slatted in smaller planks and with a less rustic finish, but prepared to last and be your daily work surface, to battle!!!
In addition, pine allows us to give different finishes, being able to adjust the color to better suit your taste. Take a look at our color palette in the product images.
Do you want a lift-up desk with the quality and solidity of Ergonaturewood, but do you have a tight budget? Pino Essential comes to the rescue to give warmth and quality to your desk.
Can't find the size you need? , you need a specific measure, a larger elevating desk, 180x80, 200x80. Do you need a double height frame, a corner lift table frame? Do not hesitate, contact us. We work to order, any natural wood and solid wood on the market, beyond our catalogue, so we will help you find what you are looking for.