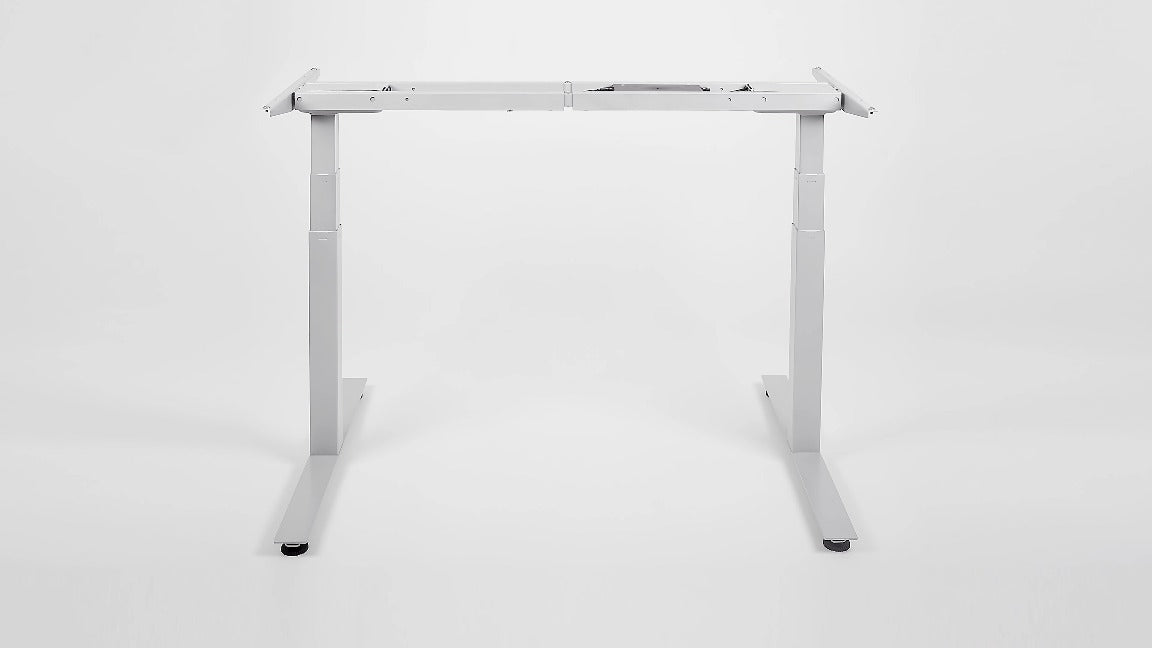 elevating frame
Our ergonomic products are designed, manufactured and assembled right here in the European Union. European guarantee from minute zero, complying with all European manufacturing and quality standards to obtain a product made as before, durable and also sustainable.
Our frames support more weight, up to 100kg, and adapt better to our clients, moving lower and higher than other simpler models. Its three-column lifting mechanism, its two low-consumption motors, its controller with display and memory, make its handling comfortable, smooth and safe with its pressure detection to avoid accidents.
Take a look at the technical characteristics below.
full frame details
| | |
| --- | --- |
| adjustable working height | 650-1300mm with 30mm envelope, with 650mm of travel |
| frames | Powder-coated steel. |
| Measurements on desk | 60-80mm wide, adjustable rail from 1200mm to 2000mm long |
| foot measurements | 590x65x30mm |
| Power | 230V AC, 300W, standby consumption of 0.3W |
| Transmission | 2 synchronous motors with microprocessor control. Thermal sensor. |
| Controller | Electronic height controller with 4 memory positions. black colour. |
| noise | <50dB |
| Loading capacity | 100 kg (Distributed load) |
| Protection | Intelligent collision protection system |
| columns | Elevation system with 3 columns 60/60; 55/55; 50/50 mm with level adjustment. |
| standards | ISO 21016, EN 527-2, EN 527-3 |
| directives | 2006/95EC, UL 508:1999, UL 1004 R705:1994, WE DC 2004/108/WE |
Sign up, subscribe to our newsletter and immediately receive a 5% discount coupon. And you can't wait, contact us!
ErgoNatureWood
Mesa Elevable Madera Natural - Pino Essential Color - Beauty
Sale price Price €818,00 Regular price €909,00 Unit price / per
Tax included.
Shipping
calculated at checkout.
Descripción
Descubre la autenticidad de la madera natural fusionada con tonos vibrantes en nuestra exclusiva línea de escritorios ErgoNatureWood con pintura a la tiza.
Características destacadas:
Variedad de tonalidades: Elige entre tres colores distintivos: azul, verde o rosa.

Diseño hecho a mano: Cada escritorio se pinta a mano para asegurar una singularidad en su diseño. Además, dependiendo de tu elección, ofrecemos dos estilos: pintado, que presenta una superficie uniforme con toques manuales; o Vintage, que se caracteriza por un suave desgastado que evoca un encanto rústico y envejecido.

Calidad y durabilidad: Utilizamos madera de Pino Essential alistonado de aproximadamente 3cm de grosor. Para garantizar la longevidad de la pintura y del escritorio, cada pieza es finalizada con una capa de barniz o cera protectora.
¿Tienes requerimientos específicos? Ya sea que necesites un escritorio elevable de dimensiones particulares, un frame de doble altura o un diseño esquinero, estamos aquí para ayudarte. Ofrecemos soluciones personalizadas, trabajando con cualquier madera natural y madera maciza disponible en el mercado, más allá de lo que ves en nuestro catálogo.
Contáctanos y juntos crearemos el espacio de trabajo perfecto para ti.